YAG Man Challenge is taking place in San Diego, October 9, 2011 and has been created to raise awareness and funds for YachtAid Global.
The Challenge is, who can better Mark Drewelow ( YAG Man ) in a 1 mile open water swim?
Six have risen to Challenge.  We will be posting bios of all challengers as soon as we have it:
Mark Drewelow – YAG Man, YAG founder and Visionary, C2C inc President
Mark started competitive swimming at a young age.  By the time he reached high school the pool time was split between water polo and swimming.  Mark was an All American at the Junior College level in swimming.  On the polo side he attended University of California Irvine on a scholarship and was one of 13 team members in 1982 that won the NCAA division I Championship, at that time considered the finest collegiate polo team ever assembled which had a 32-0 season.
Richard Drewelow – Little YAG Man, CommVault company Executive
Inspired by his older brothers aquatic performances – Richard Drewelow started training with their High School team at age 12. He went on to win gold in the US Nationals, become a 1988 Olympic Trial finalist, All-American top 15, and world ranked long distance swimmer for ten years.  Richard  attended UCLA with a full athletic scholarship. He continues to enjoy the sport with his siblings as a committed Masters Swimmer and open water competitor.  In 1988 he placed 1st out of  1369 athletes in the La Jolla Rough Water Swim with a time of 20:17.
Paul Daubner – The Broker, Northrop Johnson in San Diego
I have lived, worked and played in and on the water since before I could walk. The last time I swam competitively was about 40 years ago as a young teenager on our local swim team. Last month my son Max along with a few friends challenged me to swim the YAG Man Challenge. So, with only three weeks to train for the competition I am proud to be participating and supporting YachtAid Global!
Max Daubner –  Paul's 16 year old son

My name is Max Daubner, I am 16 years old and a Junior at Point Loma High.
I have been in some body of water for just about  as long as I can remember. I've surfed since 5th grade, and have always been challenging my dad to another race in the pool. I started playing water polo when I was about 12 and haven't stopped since! I am currently on Point Loma's Varsity polo squad for the 3rd year. I cannot wait to swim with people that are the best in the boat business, and am excited to help support such a great organization!
Kerrie Wassell – Crew X, works aboard a 50 meter yacht in San Diego
In her younger years, Kerrie was a top Nationally ranked swimmer in the UK which was not that long ago.
Todd Roberts – Shipyard Guy, VP Marine Group Boat Works
Todd has a swimming and water polo background and is back in the pool training for the YAG Man Challenge.
There is still time to sign up get used to the cold water, who else will rise to the Challenge?
September 21 news flash from Marine Group Boat Works
THE YAG MAN CHALLENGE
Sunday, Oct. 9, 2011
Challengers vs YAG Man – beat the YAG Man in a SharkFest swim contest
for bragging rights:)
Challenger vs Challenger – whoever raises the most funds gets to choose
which region the YAG aid goes to
Motivated by the chance to impact a region close to their hearts,
challengers are coming up with creative ways to raise the most money
during the YAG Man Challenge.  Vice President Todd Roberts of Marine
Group Boat Works, a San Diego based superyacht haulout and refit
facility, has tapped into the interest of his employees, colleagues,
subcontractors and family members to guess how long it'll take him to
complete the 1 mile swim.  The premise?  Todd  was a high school water
polo champion.  However, since then, he hasn't timed his laps and his
only competitor has been his 11-year-old son Parker.
Each guess costs $10, and whoever is the closest to the actual time will
get a special prize (Marine Group Boat Works is always full of nice
surprises:)  Also, Marine Group Boat Works will match dollar for dollar
how much is generated from all the guesses.  Proceeds will go to The YAG
Man Challenge.
The YAG Man Challenge will culminate at Fifth Avenue Landing where the
downtown superyacht marina will provide complimentary lunch on the docks
for YAG Challengers and crew.
September 11 YAG Man competes in the La Jolla Rough Water Swim.  Completes swim in 31:58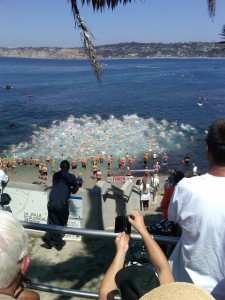 Late August 2011, YAG Founder Captain Mark Drewelow ( aka YAG Man ) training at 10,000 feet in the high Sierra mountains California. Yes the water is frigid !!